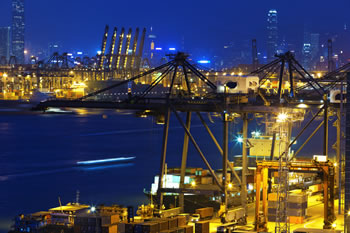 Keystyle Limited is an integrated end to end logistics and air cargo solutions provider based in Lagos, Nigeria since its inception in 2006. At Keystyle Limited we provide supply chain solutions to our customers from the source to the final destination.
Our logistics services comprise customs clearance, freight forwarding, warehousing, transportation, port services and air cargo handling.
Our People
At Keystyle Limited, we believe in our people. With a team of experienced individuals, we are committed to providing flexible, tailor made offerings that will delight our customers. We have a number of human resource programs in place, coupled with our spirit of winning dedicated to keep our staff motivated, diligent and provide you with excellent customer service at all times.
Our Customers
Our customers are the heart of our business. We are motivated and inspired every day to offer you an efficient cargo supply chain option that will enable you to remain focused on your core business. At all times, customer service remains our priority. We pride ourselves in offering our customers exceptional logistics services that are safe, secure, timely and cost effective.
---
Freight forwarding
At Keystyle Limited, we understand that our customers demand safe, secure and swift handling of their cargo at cost effective rates. We offer you an unmatched level of personalized customer service. We also focus on giving you the satisfaction that is lost among global freight forwarders.
Our wide experience in sea freight ensures that we provide our customers with customized, flexible, fast and efficient sea freight coupled with tailor made rates to ensure value for the customer.
Trucking
At Keystyle Limited, we provide an essential trucking service to our customers by transporting raw materials and finished goods over land, typically from manufacturing plants to retail distribution centers.
We give you the best of both worlds—multiple load opportunities over multiple routes. We give carriers the opportunity to keep their trucks loaded, while giving you access to one of Africa's most expansive and resourceful trucking networks.
We fully understand your concern for urgency, safety and quality. From guaranteed pristine fleets to an unbroken chain of custody, our product stewardship exceeds the highest quality standards in the industry.
---
Warehousing
By understanding your issues and anticipating your business and logistics needs, Keystyle Limited experts provide robust solutions that will drive value for your business. Whatever industry sector you operate in, Keystyle Limited provides dedicated and shared warehousing and distribution operations to ensure that you can deliver your service promise to your customers worldwide. Our strategic warehousing locations combined with best in class design tools, processes and systems ensure cost-efficient distribution solutions.
Warehousing Services:
Inventory management and control
Order processing, inbound and outbound
Bar-coding, re-packaging, labeling and quality control
Yard management
Vendor/carrier performance
Cross-docking / flow distribution
Static and dynamic replenishment
Load building
Kitting and value added services.
Logistics, Supply Chain consulting & marketing
At keystlye Limited, we provide active management of supply chain activities in order to maximize customer value and achieve a sustainable competitive advantage. Through our conscious effort, we develop and run supply chains in the most effective & efficient ways possible. We cover everything from product development, sourcing, production, and logistics.